Thrifter Share, a post to share you thrifted finds whether you plan to keep them, sell them or give them share them here first.
This is the day I've been waiting for, The Thrifter Merry Christmas Blog Hop, a themed link up shared with some amazing thrift bloggers like Adirondack Girl at Heart

,

Deanie's Stash

,

Random Anny

and

A Little Bit of Everything to gather as many posts about how YOU decorate with things found out thrifting. Found items, estate sale finds, rummaged goods, thrifted bit, vintage awesomeness, kitsch treasures, retro pieces and antique scores are ALL welcome in the blog hop. We want to see WHAT you collect and love, or what you sell this time of year.
I love and can't resist any old unloved ornaments and I drag them home by the bag and box full, my husband is overjoyed every time I drag out a dusty bag full of unwanted ornaments to show him, THRILLED I tell you. When we first spent a Christmas together his ideal tree was one with white lights and a few simple ornaments and trailing ribbons.
Poor guy I think MY tree made him want to cry.
It used to lean forward with all the extra ornaments I HAD TO HAVE on the front, these days I make sure to decorate the back as fully as I decorate the front so we have balance. Our old house has funky slanting floors and it still leans but only from the floor boards and not the ornaments.
I've always wanted a fireplace in our old house but it doesn't look like that's going to happen any time soon. So we did the next best thing
we bought an old used fake fireplace. It works just wonderfully on this wall and we enjoy the fake flames twirling by. I love having a mantel to decorate and my kids are finally old enough to leave it alone, FINALLY.
The new to me hutch is holding 100% thrifted and second hand treasures. The silver service was my Grandmothers and it should get polished but I kind of love the patina it has going on right now. The other bits are nothing special but when put together I love the look they create.
And I kind of have this going in the bathroom Hoosier.
It started with one piece and has built over the last 15 years to this full blown homage to Relpo, Homco and Lefton pieces, of course many are unmarked too. And there are odd pieces like the velvet flocked reindeer and the wood pieces up top too.
I have more goodies this certainly isn't ALL of it. I'll be posting more photos in another post as I get them done and the house cleaned too. That's got to be the HARDEST part of all of this is getting photos when it's clean and decorated without someone asking me what I'm doing.
If you're linking up we're asking you to grab out button and slap it on your blog post to link back to us, we'd appreciate it.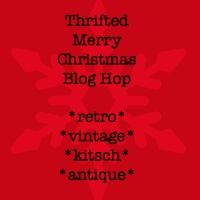 Link 'em up! Now to be honest you don't have to limit your blog post link ups to current posts, what did you do last year? link it up. What you've sold? Link it up. What you love? Link it up! And if you don't have a blog but you've got photos well send them to me, small files please, and I'll create a blog post with your photos in it and share them too!